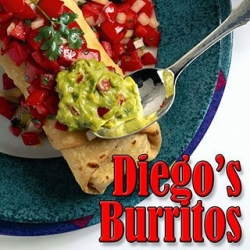 MEXICAN FOOD FOR SAN ANGELO, TX
Breakfast Burritos
At Diego's Burritos, we're known for our delicious breakfast burritos. They come with a variety of options so you'll always have something different to try. We have a breakfast burrito to please everyone.
Join us for the best breakfast in San Angelo! Our menu includes a wide variety of breakfast burritos ranging from the classic Sausage & Egg burrito to our deliciously-packed Machacado burrito. All of our currently offered breakfast burritos are listed below:


Potato & Egg
Sausage & Egg
Ham & Egg
Chorizo & Egg
Chorizo Pico de Gallo
Chorizo & Potato
Egg Ranchero
Potato & Bacon

Guiso
BBQ-Plain
BBQ-Chile
Bean & Cheese
Ground Beef & Potato
Machacado
Chicharron con Chile
Lengua (Beef Tongue)
---
The entire menu at Diego's Burritos is worth a try. Stop into any of our San Antonio, TX restaurants each and every day to enjoy consistently delicious Mexican food!